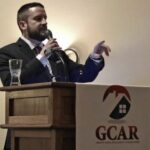 I want to thank you all for an excellent year. It's unbelievable that we are in the last 2 months of the year already; it seems like just yesterday I was being installed as president. There has been so much growth in our association over the last year and I'm honored to have been a part of these changes.
I'd like to thank everyone who served on committees this year and made time to attend our association events. Our amazing committees showed their dedication to the association over the past 12 months through countless hours of hard work. We were able to accomplish a great deal within the association, the government and the community.
I'd like to encourage everyone to get involved with our organization. In addition to being part of the process, you will help shape our industry's future with your individual voice and dedication.
Our 2019 trade show was a wonderful success. The event featured a phenomenal keynote speaker, as well as an extremely active exhibition floor that showcased many different vendors who support our industry. This issue of Across the Association features a few photos from the trade show. If you'd like to see more, be sure to visit our association's Facebook page, where all the photos are posted.
Enjoy your holiday season but be sure to stay informed on what is happening in the market and within the association.
Finally, I want to thank you for your trust, confidence and the opportunity to serve. It has been a great honor and my sincerest pleasure to hold the position of GCAR President.  I look forward to working with many of you in the future and wish you all great success and prosperity in both your personal and professional lives.
Best regards,
Jay Christiana
2019 GCAR President